Lezing Michael Paraskos
All Is Giving is gemaakt om kunst en publiek een nieuwe ruimte te geven die inclusief is. In het verlengde daarvan, hebben we Michael Paraskos uitgenodigd om naar Groningen te komen om in de tentoonstelling een lezing te geven over zijn zeer specifieke ideeën die hij heeft over de toestand van de beeldende kunst op dit moment.
Reviving the Corpse of Art
Michael Paraskos has been described by Dr Penelope Curtis, Director of Tate Britain, as too dangerous for the art world. She is right. In this talk Paraskos presents a scathing attack on a mainstream art world where collectors, critics and gallery curators have turned art into nothing more than the plaything of corrupt bankers. But artists have not been innocent in this corruption, he suggests, as many of the most well known artists today are as immoral as the wealthy oligarchs who buy their wares. This is exacerbated by an art education system that seems to have withdrawn from teaching art practice in favour of a particularly nihilistic concept of art. As a result, he claims, the essential material nature art object is diminished, while the art theory used to justify this nihilism grows ever larger. According to Paraskos we live in an age when art is dead, and it will take an almost superhuman effort to reanimate its corpse. But we can do this, and drawing on radical anarchist theories of art, Paraskos offers a plan to do so.
Michael Paraskos, Londen
Michael Paraskos, FRSA (born 1969, Leeds, Yorkshire) a writer on art, the son of the Cypriot artist Stass Paraskos. As well as reviewing exhibitions for BBC Radio 4, he has written several books, essays and articles on art, literature and politics, for various publications including Art Review, The Epoch Times and The Spectator magazine. He has taught in universities and colleges and curated several exhibitions. He is a leading figure in the New Aesthetics movement, but he is also known for his theories connecting anarchism and art. (bron: wikipedia
Website
Wikipedia
Vrijdag 8 november om 19.00 uur

Entree 2.50 euro, studenten gratis

Munnekeholm 1, Groningen
Facebook
Facebook evenement
Er zijn maar een beperkt aantal plaatsen, u kunt uw kaartje reserveren via info@allisgiving.nl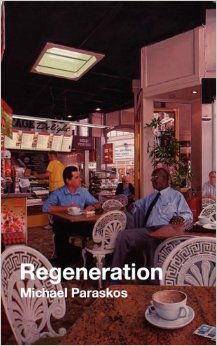 Michael Paraskos is one of the new generation of art critics who are redefining the way we make and see art in the twenty-first century. He is a leading figure in the New Aesthetics movement, an informal grouping of artists and writers who emphasise the physical and material nature of art above its conceptual meaning. In Regeneration Paraskos puts forward an argument for an aesthetic framework for art which does not look back to the academic aesthetics of previous centuries, but is rooted in the physical and material nature of how artists actually make art. By doing this, he suggests, an art theory based on essential nature of art can come into existence, rather than a repetition of futile attempts to discuss art as if it is music, or poetry, or linguistics, or visual politics. Art is art, he suggests, and it does not need to borrow theories from other human activities to justify its existence. But Regeneration is not simply a discussion of art theory. It is a record of a highly personal, and sometimes painful, journey into discovering the true nature of art. Originally intended for private distribution only to trusted friends in the art world, Regeneration offers a rare glimpse into the experiences that lead art theorists and critics to think, say and do the things they do.
Koop op Amazone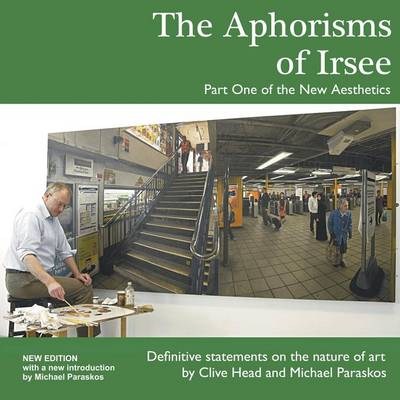 The end of the twentieth century was also the end of conceptualism. With the emergence of a new the art for the twenty-first century The Aphorisms of Irsee is a much needed definitive statement on the nature of art. In the form of 75 sayings or aphorisms they provide the fundamental grounding that any artist, particularly an artist starting out in their life in art, needs to understand the nature of art.

More specifically, the Aphorisms of Irsee is a definitive statement on the New Aesthetics that is taking hold now the conceptualist project that dominated the last century faces collapse.

Based on the sensual, material and physical nature of art, the New Aesthetics is the future of art.
Koop op Amazone
Voor meer informatie over de lezing kunt u bellen met Ad de Jong 06 22011602 of Esther de Graaf 06 25071232.




In samenwerking met Academie Minerva
Home